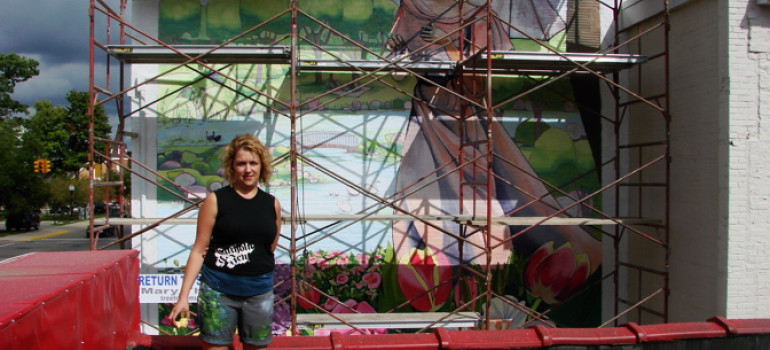 About Sarah Winter
Sarah WInter was born in Detroit in 1977 and grew up in the Detroit area.  Sarah began early to explore the connections between imagery and the human experience, and has continued this pursuit throughout her life.  Besides painting, Sarah has worked in-depth in darkroom and digital photography, and maintains a regular drawing practice.  Sarah discovered her love of color and color theory in art classes at Pioneer High School in Ann Arbor.  She discovered her love of oil paints in the Fine Arts department at Eastern Michigan University, from where she earned a Bachelor of Fine Art degree with a focus in Painting.
In recent years, in part as a result of her love for the Toronto art world, Sarah has taken inspiration from the Canadian Group of Seven painters, particularly Tom Thomson.  The Group of Seven sought to develop individual styles through which to capture the beauty of the land in which they lived.  Tom Thomson traveled around the lake region north of Toronto via canoe, making small plein air sketches throughout the summer.  During the winter, back in his studio in the city, Thomson translated the small sketches into paintings on larger canvases.  Also a lover of nature, Sarah has been using these techniques to capture the beauty and the feeling of some of her favorite spots  – many in Michigan's upper peninsula and around Ann Arbor, Michigan.
Sarah has taught art classes and designed visual art and art integration programs for students ranging in age from 4 to 84.  She is a highly qualified visual art educator, is certified to teach in the state of Michigan, and holds a Master of Visual Art Education degree from Boston University.  The City of Ann Arbor honored Sarah with a Golden Paintbrush Award  for excellence in public art.
Sarah currently paints and teaches art in Ann Arbor, Michigan with her son, Isaiah, and her partner, saxophonist Dan Bennett.