1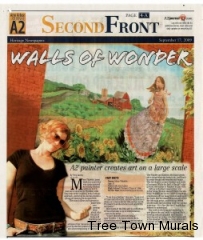 Ann Arbor Journal-Second Front
September 17, 2009
Walls of Wonder- A2 painter creates art on large scale
By Terry Jacoby
Mary Thiefels' latest work is a mural she was commissioned for to help Chelsea celebrate its 175 years as a community.  Thiefels, a lifelong Ann Arbor resident, took a unique approach, centering the mural around a young girl dancing in an open field.
The mural allows each person to make their own assumptions about what the girl is doing, thinking and feeling.  Is it her actions or her innocence that grabs you? Is she all-encompassing of Chelsea? "I see it as a feeling," she says. "I see a lot of hope and reflection, and she symbolizes a dream or a vision for her life and her world.  It's meant to evoke emotion and sensibility and peace."
How much of the little girl is a reflection of the artist also is up to interpretation-even to the artist.  "I don't identify with her totally," says Thiefels. "I do know where she is.  Abandoning what's going on and escaping to some kind of adventure.  There is a lot of me in that."
At 31, Thiefels is still on that adventure.  The Pioneer and Eastern Michigan graduate is doing what she loves to do.  And that's to create beauty and emotion and magic.  The two share a certain freedom and sense of purpose.  While the field is the girl's playground, the canvas is Thiefels' to play with.
Sitting in the back room of her Ann Arbor home, the sun seeps through the window.  Thiefels sits on the couch as the shadows bounce off her many works hanging on the walls.  She is relaxed when talking about her life as an artist, never taking herself too seriously, but believing what she's doing is serious-It's  a fine line that Thiefels has learned to understand.
Her work is evolving and taking her to new places she can't wait to explore.  She's drawing and painting and teaching and learning and growing. Like the Chelsea girl in the meadow, Thiefels is on and adventure and part of the fun is not knowing where she is headed.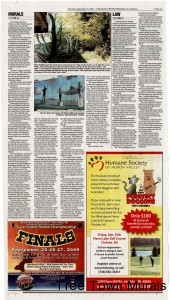 After graduating from Pioneer in 1996, Thiefels headed to Washtenaw Community College for a few years, studying photography and fine arts.  She then took four years off and lived in a house in Ann Arbor with other artists.
"I started seeing things being done in the arts community, doing grass-roots projects, organizing mixed-media shows that ranged from performance to fine arts to theater and music," She said. "It was exciting."
Thiefels returned to college and graduated from Eastern Michigan University in 2007 with a degree in fine arts with a concentration in painting.  School and living the life of an artist were both important in helping develop her unique skills and insight into their world.  "I struck a balance along the way," she says, "with the public art I saw an opportunity to branch out into the surrounding community while I was attending college."
Living in a house surrounded by other artists created a home of creativity. "We all had our own spaces," Thiefels said. "It was a unique community.  There was music happening and painting being done and show being created.  We were living a little on the edge, a little on the outskirts and playing and exploring."
It was around this time, in 2002, that Thiefels and friend Cullen Neaton received their first commission, which was the underpass on North Main in Ann Arbor.  Thiefels and Neaton have know each other since kindergarten and have remained friends during ever turn in their lives.
"Thiefels was the first public mural commission that I ever received and designed and implemented, "she said. "It was the first time I was learning about surfaces and learning how to preserve it.  We had to protect it from the natural elements."  Thiefels says her process of creating the community mural has evolved since her first one in 2002 and her most recent work,which was unveiled earlier this month in Chelsea.
"The organization of the project was a lot different because the funding was coming from some really local sources such as the Chelsea Community Foundation and the Downtown Development Authority," she said. "We felt it was important for those donors to see the designs and to make comments and suggestions.  And since I included a rural landscape in the Chelsea mural, I wanted to make sure ti was the right barn and that the historical references were accurate."
When creating the Chelsea mural, Thiefels didn't want to just paint a picture of Chelsea as it is today and feature local landmarks such as the Clock tower, Jiffy Mix and the purple rose. She saw Chelsea as much more than buildings.
"My idea was to create more of a timeless image," said Thiefels, who had one month to create the mural and finished it at 1 a.m. the day it was installed. "When you think of Chelsea you think of those very structured places and it's very obvious.  But I wanted to create something less obvious.  A little more of a felling and a time and place.  I wanted to take a piece of a moment and expand it and make it larger."
After doing other train tussles in and around Ann Arbor, Thiefels created a mural for Manchester in 2007 as part of the village's River Folk Festival.  "This mural depicts the Village of Manchester's sense of community and pride by highlighting the people, the festivals, and the historic places that bring them all together,"Thiefels said.  "Like Chelsea, it was a community event in and of itself, by involving many volunteers in the design and painting process."
Thiefels then helped coordinate and lead the Corner Health Student Painted Mural Project in Ypsilanti.  The purpose of that project was to provide a capstone learning experience to five aspiring young artists from local schools.  This group created and inspirational piece of public art in an economically depressed area to kick off the public phase of the Corner's $1.5 million Capital Campaign.
The project began in late February 2008 and was completed in September 2008.  "This long and intensive process taught the teens how to design, plan, budget and execute a public mural painting," Thiefels said. "Together as a team of artists we were able to reach all of our goals while giving this inspiring and vivid painting to the community to enjoy for years to come."
Thiefels has been married for four year to Chris Wong, who runs he's own business out of the house, much like his wife.  They get to spend a lot of time together, even if during some of that time they are both working.  In 2007, Thiefels founded her own company TreeTown Murals.
"My company is committed to promoting the visual development of local communities and private spaces by fostering initiatives that support public art, "she said. " My designs are becoming more involved, detailed and thought out, but also my knowledge of surfaces and materials far surpasses what it was only a few years ago, "she says.
Thiefels says that she enjoys wearing many hats and working with all kinds of artists in many different media. "As a mural artist I focus on visual development within local communities, "she says. "By bringing more public mural art to the city centers, we are paving the way for a richer, more dynamic and prosperous urban life.  Ultimately, we are creating spaces that are safer, more engaging and accessible,"
Sharing her gifts with other has been another joy in her life.  "As an educator, I teach for the Ann Arbor Recreation and Education Department, working with adults to challenge them while strengthening their creative abilities in acrylic painting and drawing." said Thiefels, who was also inspired to share her mural experience with local teenagers.  In the summer of 2002 she lead a mural project for the Ann Arbor Art Center, called the stARTwork summer art program, with at-risk teens.
"Teaching is rewarding to me on so many levels," she says.  In the fall of 2003, Thiefels designed and facilitated a course, called "Art Inside and Out," where students addressed the larger mural questions from an issue-based approach.
"We researched how mural art has been a people's voice over time and into today," she says. "Projects like these are a vital part of community building in any city or town.  For me being a part of them is even more important, it helps me keep a pulse on our changing community and society. "
With the Chelsea mural now safely hanging on the side of the Merkel Furniture building, Thiefels and TreeTown Murals will move onto other projects.  The company  will soon begin work on a mural for the Annapolis Medical center in Wayne as well as a mural on Liberty Street in Ann Arbor through the Michigan Peace Works and Main Street Area Association.  And in the spring she will begin work on a mural in Whitmore Lake on the side of the National City Building.
"I think what I do is important," she says. "Murals are different way to evoke dialogue.  They can be seen as a voice, a people's voice or a community's voice."  And an artist's voice.