2
The Chelsea Standard
May 28, 2009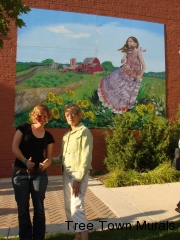 Mary's Marvelous Murals- Local Artist Will Spearhead Community Effort
By Sheila Pursglove- Special Writer
Mary Thiefels grew up connected to the arts.  And it shows.  Thiefels, one of the newer members of the Chelsea Painters, will exhibit at the group's annual Art Fair set for June 6, 7, on the grounds of Chelsea Community Hospital.
But her Chelsea art connections don't end there.  The Ann Arbor native also is working in tandem with the Chelsea Center for the Arts on a community mural to celebrate Chelsea's 175thanniversary.
Thiefels, who took extensive art courses through high school and was enrolled in summer art workshops through the Ann Arbor Rec. & Ed. Department, earned her Bachelor of Fine Arts degree from Eastern Michigan University.  Drawing, painting, and designing run in her veins, and making paintings became her concentration.
She especially values the three years she set aside for self-discover between her first two, and last three, years of college.
"It's what I really needed in order to place myself in the arts community, and to actively become involved with the people making a difference with their art," she says.
In 1998, Thiefels and a group of friends lobbied the Ann Arbor Railroad to create eight murals on the concrete underpasses where train tracks run through Ann Arbor.
Years later and with much reflection, she was able to see the vital impact the murals made on the community.  The underpasses connect neighborhoods with the city center, and the murals helped create a beautiful, aesthetic, and safer transition for pedestrians and drivers alike, she says.
Thiefels received her first public commission, with friend Cullen Neaton, in 2002 when Peter Allen and Associates hired them to paint a mural on the North Main Street Underpass in Ann Arbor near the Argo Dam.  The mural was a welcome sign to people coming and going from downtown and brought color and beauty to what was then a blighted area.
Thiefels began sharing the underpass mural experiences with local teenagers.  She taught numerous workshops through the Ann Arbor Art Center and Community High School, teaching teens to design, budget,and implement public mural projects.
Capitalizing on her experience, Thiefels launched her business TreeTown Murals two summers ago, and has since created mural in Ann Arbor, Manchester and Ypsilanti.
She is undertaking her first community Mural project in Chelsea, highlighting Chelsea yesterday, today, and tomorrow, as part of the city's 175thanniversary celebrations.  She is doing historical research, consulting with the community, and is currently in the designing and planning stage of the mural process.
"I want to encourage member so the community to donate money to the mural efforts and to contribute stories for the development of the design," she says.
Local events include think tank meetings for design input, and a number of community paint days.
"I believe a mural is a symbol of our community, defining the city's moral fiber in both the views of the residents and the visitors, Thiefels says. " Like Landmarks, murals become apart of the oral geography of an area.  I plan to help continue to define Chelsea as a city that prides itself on its accessibility, cultural arts, diverse heritage, and extensive history.
"I look forward to serving local communities for years to come by creating murals for public spaces, private businesses, and personal spaces, ever fostering the connection between people and their surroundings."
Thiefels will display murals and mixed media painting s at her first Chelsea Painters Art Fair next month.
"This opportunity to be a part of such a dynamic group of individuals and painters has really showed me the endless possibilities for my work," she says. "I'm used to planning and researching for each of my murals, which become steeped in symbolism, history and detail.  The work I'm producing as a Chelsea Painter is much more spontaneous and expressive.  I now have the balance I've been searching for.