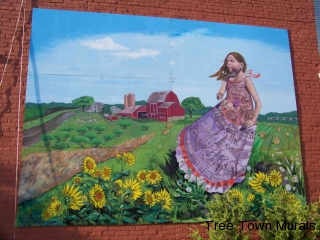 Welcome to a world of pictures and images brought to you in a larger than life format!
Mural art is likely the oldest human art form, beginning with cave paintings.  Today, murals can be found all over the world decorating  public spaces, institutions, businesses and homes.
As a growing mural company, TreeTown murals is dedicated to keeping the legacy of mural art fresh and alive.
By participating in the development and preservation of the mural art form, TreeTown Murals reaches a wide variety of audiences by bringing mural art not only into your homes and businesses, but also into the greater community for everyone who chooses to enjoy it!
There are 5 main areas in which TreeTown Murals can work with you to develop a creative and long lasting mural:
Public mural art compliments and enhances the existing aesthetic of any community by highlighting the unique elements of the city or town where it lives.
Murals existing in main city centers, parks, and neighborhoods create safer and more uplifting spaces by creating a sense of pride and ownership within a community.  TreeTown Murals ensures that each mural reflects the unique identity of its environment because community members are encouraged to be part of the creative process!
Private & Corporate Businesses
Murals and signage for your business bring a unique touch to your space, both inside and out.  You can promote your business by commissioning a one of a kind mural or sign to enhance the qualities that make you stand out to the rest of the world.
TreeTown Murals has worked in a unique array of business settings from a commercial roofing company to hospitals and restaurants!
Create an awesome team building opportunity and let your staff  be apart of the process from designing to implementing the mural!  Check out TreeTown Murals Paint by Number Concepts by TTM for more information.
Personal spaces, or home accent murals, liven up any room in your home. Turn an unassuming annex of your home into a vision of relaxation and beauty!
TreeTown Murals works with you personally to design a picture that is perfect for you and your tastes.  We can work in a range of styles to compliment your existing art collection or create a whole new image to fit the theme of your baby's room, home office, recreation room, kitchen, basement, or any of your personal home living spaces.
TreeTown Murals thrives when we can bring participatory arts to your schools & centers.  Each project is unique to your educational community.  We help facilitate so that everyone works together in planning, budgeting, designing and implementing the entire project.  Collaboration and team building are at the core of this process.
Paint by Number Concepts by TTM
At TTM we take Paint by Number to the next level! We believe that through participatory involvement individuals take personal ownership with in a larger system, inspire personal creativity, and provide team building and strengthening opportunities.
TTM designs each project unique to your community, business, or event.  Contact us today for your free consolation and estimate.  Make your next community public mural, private event, or corporate team building opportunity unique and memorable with Paint-By-Number Concepts by TTM.