Public Art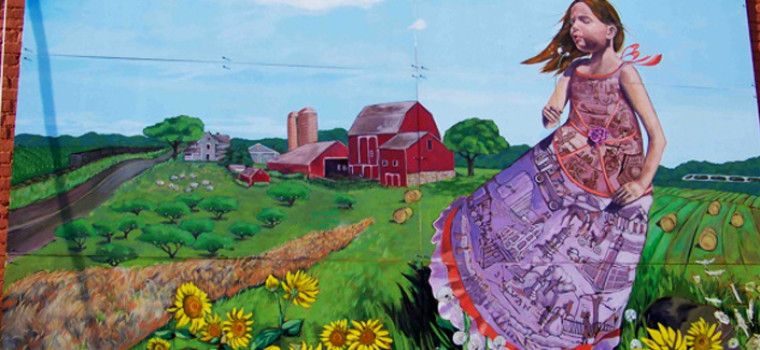 In the summer of 2009, TreeTown Murals was invited by the Chelsea Center for the Arts, to submit a proposal for a mural commemorating the 175th anniversary of the city of Chelsea, Michigan.  The city was already a buzz gearing up for a summer of festivities honoring the long and rich history of the area.  The mural was designed to be an extension of that celebration by giving a lasting piece of public art to the community as a reminder of this long legacy.
A community 'think tank' was formed to assist in the designing, stories were gathered, and the local historical society was referred too.  After 2 months of research and conversations, TreeTown Murals produced a mural design.  The design, now the finished mural, depicts a young girl blowing into a dandelion that has gone to seed.  The girl symbolizes youth and future generations, she is making a wish while blowing into a dandelion, just as we all have done as children. The setting is rural, referencing the rich agricultural and farming background of the region.
The history of the city of Chelsea is outlined in the young girl's dress, beginning with the Native Americans that once lived and cared for this rich land.  Some other historical images that are referenced in the dress include a map of the original Sylvan township settled by the Congdon Brothers in the early 1830″s (the site where Chelsea is now), some of the achievements of Frank Porter Glazier such as the Glazier Stove Company and the Chelsea Clock Tower, and Jiffy- established in 1930's, to name a few.  The top part of the young girl's dress is dedicated to life as it exists today, celebrating Chelsea's rich love of the arts, music, theater, family, and community celebrations.
The mural is currently located of the South wall of Merkel's Furniture in downtown Chelsea.
Articles about this mural: