Business & Corporate, Business Mural Accents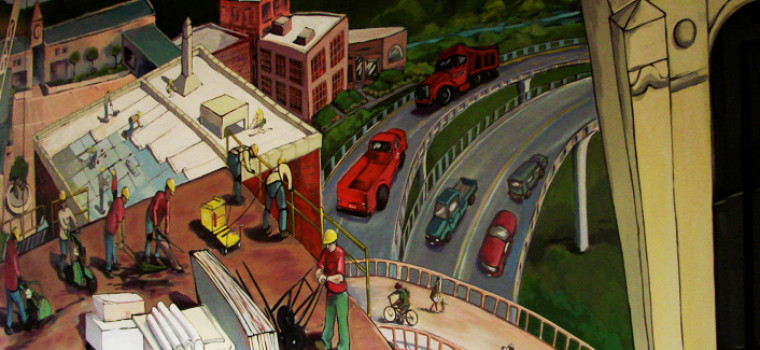 TreeTown Murals was contracted in the spring of 2010 to design and paint an indoor, 30'x10′ mural, celebrating 30 years of commercial roofing excellence for the Bloom Roofing Company.  The mural was painted at the company headquarters in Brighton, Michigan, in the staff cafe.  The cafe is a highly trafficked area, bridging the sales department with the shop and loading docks.
The mural was designed while working closely with the Bloom Roofing staff and contractors.   The reference material for the mural was comprised from on site job visits, where Bloom company roofers were photographed in action, in addition to photographs from previous company jobs, provided by the staff.  Sketches were drawn and then presented for approval.  After final additions and adjustments were made the design was projected onto the wall.
The entire staff, from sales employees to shop workers, were invited to assist and join in the fun of painting the mural.  Everyone was welcomed to make their mark.
The mural was a huge success and is now a lasting source of pride for the entire Bloom Roofing company!  The mural was unveiled at the Company's 30th anniversary celebration, in May of 2010.