Paint by Number Concepts, Schools & Centers, Schools & Centers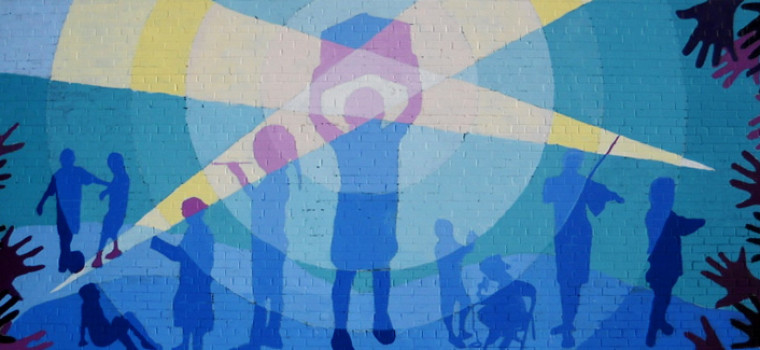 (Click here to view original article on AnnArbor.com)
The Mitchell Elementary School mural, painted in the fall of 2009, is a shining example of the Paint-By-Number Community Mural process.  We pulled off a 12'x30' exterior mural off in 3 weeks with the 3rd and 4th graders during class hours, and then finished the mural with the help of parents, staff and students at the school's ice cream social.
The 3rd and 4th grade students at Mitchell Elementary were integral in designing and execution of the mural. They all had so much enthusiasm from the beginning. My long time friend colleague, and art educator, Sarah Winter invited me to facilitate this mural project with two of her classes.  We introduced the classes to Harlem Renaissance painter, Aaron Douglas, whose work inspired the mural design. Douglas' use of color, shape, and overall composition was a perfect match for the "Paint-By-Number" process we wanted to use for the layout of the mural.
The imagery in the mural came from photographs of Mitchell students taken specifically for this project. Members of Mitchell's Student Council were photographed in a variety of poses representing parts of the core curriculum. A special emphasis on the power of reading is symbolized by the central figure holding aloft a book with waves of energy emanating from it. The hands around the border of the design make peace signs and "Mitchell high-five" signs. The Mitchell High-Five is a school wide creed of responsibility and achievement. Beams of light shine from the community of hands toward the book.
My hope is that these students walked away with an introduction of the mural making process.  I hope that they see how a simple idea along with the right persistence and planning can blossom into a piece of art that will remain in the public trust as a source of pride and accomplishment for all who participated and view it.