Business & Corporate, Business Mural Accents, Public Art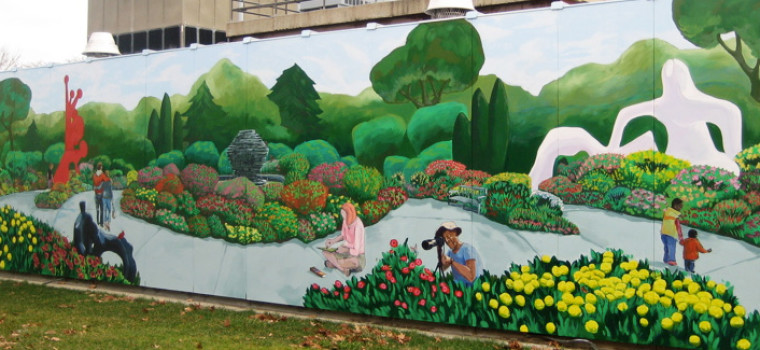 Title: "The Calder-Moore Garden"
Size: 40'x10
Location: Oakwood Annapolis Hospital, Wayne Michigan
This mural was created in the fall of 2009. The location of the mural is on the south grounds of the Oakwood Annapolis Hospital in Wayne, Mi; the mural was painted on the exterior of the hospital's steel electrical transformer.
This location is unique to the hospital because it is highly visible from their Intensive Care Unit (ICU). The purpose of the project was to transform this key location into an inspirational and beautiful escape, for patients, their families, staff and visitors alike.
The mural project was supported by Arts for the Spirit, who helped facilitate staff volunteers through out the creation of the mural. The weather was chilly that first part of October, the staff of Oakwood assisted and provided complete support for the success of the project from extra painting hands to warm coffee breaks.
This project is a shining example of how TreeTown Murals collaborates, facilitates, and assists in the beautification of a community.