Public Art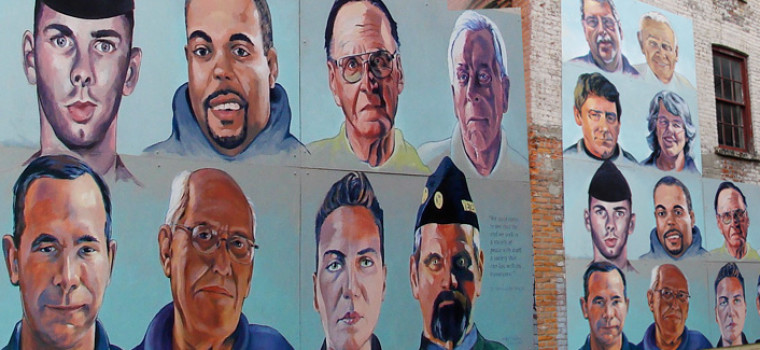 This mural is designed to draw attention to the human and economic impact of war on Michigan and our local community, while also acting as a symbol of honor and gratitude for all who have served.  Our aim is to promote dialogue and action in our community around the issues of peace and veterans rights.
Through public art, we intend to get community members of all ideologies and political affirmations thinking about peaceful alternatives to resolving our conflicts.  Each portrait in this mural depicts a Michigan-based U.S. veteran or military service member.  Their unique stories and personalities come alive in the 12 vibrantly painted portraits. The mural also features the Dr. Martin Luther King Jr. quote, "We must come to see that the end we seek is a society at peace with itself, a society that can live with its conscience."
View post from AnnArbor.com news
To learn more about the lives and service of these 12 military members visit MichiganPeaceworks.org.
Special thanks to:
Project Manager and former Michigan Peaceworks executive director, Laura Russello
Artists: Mary Thiefels, and John Vance
The project is largely funded by the Main Street Area Association in Partnership with the Downtown Development Authority.