Community, Paint by Number Concepts, Public Art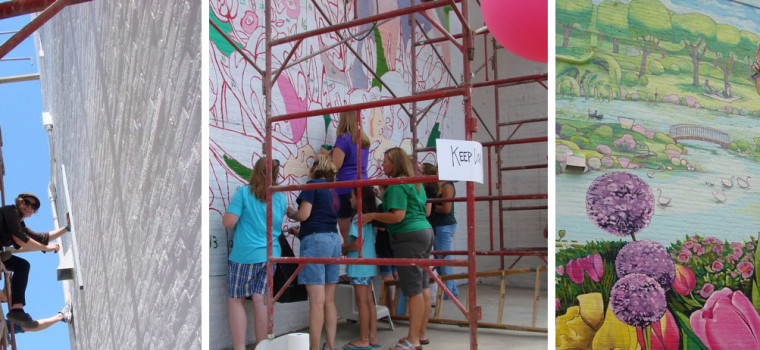 In the spring of 2011, TreeTown Murals was selected as a part of a national competition to paint a 35'x20′ mural in Hillsdale, MI. The competition was hosted by the Ladies Beatification League of Hillsdale.
Springtime in Mrs. Stock's Park was chosen as the theme so the the community could draw inspiration for the next chapter in the town's renewal. For decades Mrs. Stock's Park was a center of culture and beauty in the downtown area.
The park is currently being restored and is utilized by the residents of Hillsdale as a place of recreation and leisure. The finished mural, 'Return to Splendor,' located up the street from the park, helps to illustrate a period in Hillsdale's history that reflects the hope for Hillsdale's future. This period was marked by industry, creativity, wealth, education and culture. 'Return to Splendor ' has become visual narrative and a bold graphic interpretation of the hope, beauty, and rejuvenation that Mrs. Stock's Park represented for the community of Hillsdale in the early 20th century.
Completed in the summer of 2011, talking two months to paint, Return to Splendor stands two stories tall (20'x35′), drawing attention from multiple perspectives in the city.
TreeTown Murals was able to draw on the communities revitalization initiatives by creating a community paint day where TreeTown Murals' adopted, paint-by-number technique was used. On a Friday in August, over 175 people from the community were invited to "make their mark" on the mural. The event was a huge success and allowed Hillsdale residents to take personal ownership, through participation, of the mural. This activity generated a city wide buzz, creating pride and joy in Hillsdale's first public mural art initiative.