Paint by Number Concepts, Schools & Centers, Schools & Centers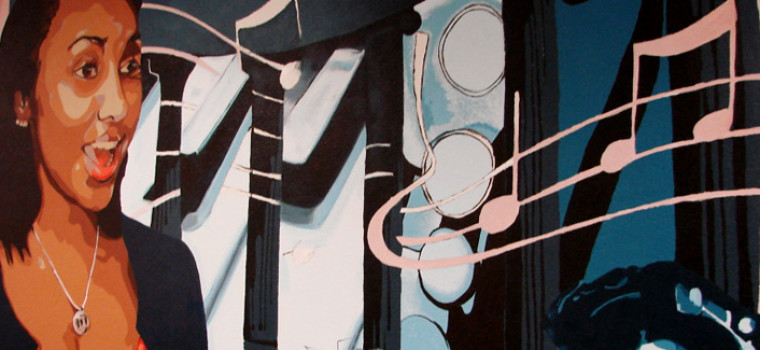 Skyline High School, Ann Arbor, Michigan
Skyline high school had it's first students, an incoming freshman class, fill the school in 2008.  For 3 years Visual Arts educator, Ann Hendric, looked forward to developing a mural program for the school.  In the winter of 2011 she teamed up with TreeTown Murals to develop and facilitate the pilot mural project.
Skyline's mural program was taught as in independent study, with 2 juniors registered for the class, Leah Cannaert and Kalee Murphy.  These two students studded and helped shape the program.  They developed the leadership skills needed to facilitate future murals in the school.  It was an opportunity for them to share their talents and skills with the rest of the public school community, to be role models and set a standard of achievement among their peers, to paint and have fun, and make a positive and lasting impression on their school.   This program, in which the two of them helped develop, will stand out in their resumes and portfolios for jobs and future educational experiences.
The project was set up in the style of a paint-by-number.  The mural's theme is music, and after collecting imagery, was designed in Photoshop.  We proceeded to project the design onto the wall, creating a giant coloring book of sorts.  We assigned a number and a corresponding color to each section of the mural.  Then off we went painting each day during 5th hour for 2 months.
The 500 foot hallway spans the length of the first floor of the building.  Each year one-three murals will be painted, all highlighting Skyline students and various core curriculum activities.  Earth sciences and biology are next!
Special thanks to our funders: the Ann Arbor Public Schools Educational Foundation and a matching grant from Skyline's PTSO.