Wall art or murals in your office or on the side of your building will allow your company to stand out with a unique and creative expression that will define the character of your business.
TreeTown Murals can enlarge your company logo on any wall or surface or create a unique painting or mural for the interior or the exterior of your space.  Also consider a beautiful mosaic, donor plaque to honor your supporters and community partners.
Paint by Number Concepts by TTM:
At TTM we take PBN to the next level! We believe that through participatory involvement individuals take personal ownership with in a larger system, inspire personal creativity, and provide team building and strengthening opportunities. This quick and easy implementation for any skill level, could be exactly what you are looking for.
Murals become an extension of your company's vision, stimulate business, and create an energizing work environment.
Scroll down for more info or set up an appointment for a FREE consultation.
Business and Corporate Murals Gallery
Private Business Murals: How a consultation is set up and the process behind it.
You may be interested in a mural, a large scale painted reproduction of your logo, or an exterior painted sign or mural representing and advertising for your business. TreeTown Murals will personally come out to your business to photograph and take measurements of the perspective spaces and places in your business (or office) where you would like your new mural.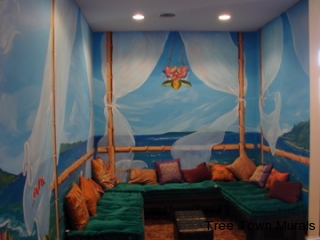 Design possibilities will be discussed and recommendations will be made, one on one, in great length, until we get you what you want. Based on our initial meeting, we will put together an estimate and also draw up the first of two possible sketches for your approval.
Here is how the pricing will work for your project:
TreeTown Murals requires a 20% deposit from the total estimate to be paid in advance for the design work.
Half of the remaining balance, after the deposit is paid, is required before the work begins, the second half is due within 2 weeks after the completion your mural. Project time lines differ based on the detail and overall size of your actual mural; estimated total time from design to finished work is typically 4 to 8 weeks.
TreeTown Murals only uses the highest quality interior/exterior paints and materials.